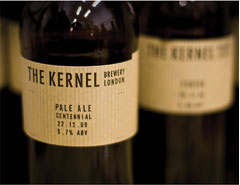 The brewery springs from the need to have more good beer. Beer deserving of a certain attention. Beer that forces you to confront and consider what you are drinking. Upfront hops, lingering bitternesses, warming alcohols, bodies of malt. Lengths and depths of flavour. We make Pale Ales, India Pale Ales and old school London Porters and Stouts towards these ends. Bottled alive, to give them time to grow.
SATURDAYS AT THE KERNEL
We are open every Saturday from 9am to 2pm to sell our beer directly from the brewery.
On the 13th of September 2014, we will have:
LONDON SOUR, RASPBERRY 3%
TABLE BEER, 3.2%
PALE ALE, AMARILLO CASCADE, 5.3%
PALE ALE, CASCADE, AMARILLO, ELLA, 5.4%
INDIA PALE ALE, ELLA, CITRA, APOLLO, SIMCOE, 7.5%
INDIA PALE ALE, CHINOOK, SIMCOE, 7.3%
EXPORT INDIA PORTER, 5.9%
EXPORT STOUT, 7.1%
IMPERIAL BROWN STOUT, 10.2%
UPCOMING EVENTS
(20.09.14) Zwanze 2014 - SOLD OUT
(26.09.14-27.09.14) Borefts Beer Festival
(09.10.14 - 12.10.14) IndyManBeerCon
(05.10.14) Concert: Seymour Wright and Evan Parker.
VIDEOS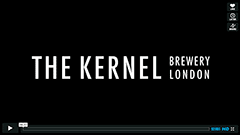 THE KERNEL BREWERY
Visitor / Delivery entrance: Arch 11 Dockley Road Industrial Estate London SE16 3SF
map
Registered office: 01 Spa Business Park Spa Road London SE16 4QT
Phone: 02072314516 Email: contact(at)thekernelbrewery(dot)com
contact
NEWS
(04.09.14) Leeds International Beer Festival
(09.08.14 - 16.08.14) London Beer City
(14.08.14 - 17.08.14) London Craft Beer Festival
(05.06.14) Liverpool Craft Beer Expo
(31.05.14) Paris International Beer Celebration
(18.05.14) RAW Wine Fair
We are members of the