---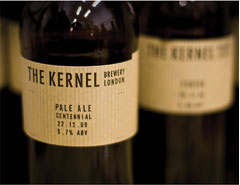 The brewery springs from the need to have more good beer. Beer deserving of a certain attention. Beer that forces you to confront and consider what you are drinking. Upfront hops, lingering bitternesses, warming alcohols, bodies of malt. Lengths and depths of flavour. We make Pale Ales, India Pale Ales and old school London Porters and Stouts towards these ends. Bottled alive, to give them time to grow.
---
UPCOMING EVENTS
FRI, 3rd – SUN, 5th AUG London Craft Beer Festival 2018 Tobacco Dock, London
FRI, 24th – SUN, 26th AUG Brewskival 2018 Brewski, Sweden
SUN, 26th AUG Van Moll Fest 2018 Evoluon, Netherlands
THUR, 6th – SUN, 9th SEP Leeds International Beer Festival Leeds Town Hall, Leeds
THUR, 4th – SUN, 7th OCT IMBC 2018 Victoria Baths, Manchester
FRI, 19th – SAT, 20th OCT Whats Brewing 2018 Stavanger, Norway
FRI, 30th NOV – SAT, 1st DEC Billie's Craft Beer Fest 2018 Antwerp, Belgium
---
SATURDAYS AT THE KERNEL
We are open every Saturday from 9am to 2pm to sell our beer directly from the brewery.
On the 2nd of Feb. 2019, we will have:
In 500ml bottles:
Table Beer, 2.8%
Pale Ale, GALAXY MOSAIC, 5.4%
Pale Ale, GREEN BULLET, 5.2%
Pale Ale, IDAHO GEM, 5.3%
Pale Ale, NELSON SAUVIN GALAXY, 5.4%
Pale Ale, ELLA, 5.3%
Export India Porter, 5.8%
In 330ml bottles:
India Pale Ale, CITRA, 7%
India Pale Ale, SIMCOE, 7.2%
India Pale Ale, NELSON SAUVIN ENIGMA, 7.3%
Export Stout, 7.5%
Imperial Brown Stout, LONDON 1856, 9.1%
India Double Porter, 7.5%
India Brown Ale, 6.2%
Dry Stout, 4.4%
In 750ml bottles:
Bière de Saison, DAMSON, 5.5%
Bière de Saison, RED CURRANT, 5.6%
Bière de Saison, CENTENNIAL, 5.1%
Bière de Saison, MANDARINA BAVARIA, 5.4%
---
NEWS
17.02.18 BIERE DE SAISON, CITRA 5.9% now available.
19.01.18 BIERE DE SAISON, HONEY OFF COLOR / KERNEL 6.1% now available.
09.12.17 - Tap takeover at the Understudy Bar, National Theatre, with music from DJ Blondezilla:
13.08.17 Dual Runnings