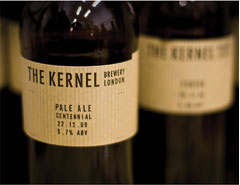 The brewery springs from the need to have more good beer. Beer deserving of a certain attention. Beer that forces you to confront and consider what you are drinking. Upfront hops, lingering bitternesses, warming alcohols, bodies of malt. Lengths and depths of flavour. We make Pale Ales, India Pale Ales and old school London Porters and Stouts towards these ends. Bottled alive, to give them time to grow.
NOTICE
We no longer serve beer to drink at the brewery.
We will be open on Saturdays only as a bottle shop (for our normal hours of 09.00 - 14.00). This is in line with the ethos of Spa Terminus, whose focus is produce that can be bought to take home.
We cannot satisfactorily accommodate the volume of people who wish to come down on a Saturday: we feel that our space has been outgrown and we are unable to give our customers an experience, service or environment that we are happy with.
We are working on a more suitable way to be able to serve beers directly to our customers, but this will take some time.
This is not a decision we have taken lightly, our Saturday tap room has been a huge part of who we are and what we do. Thanks to all of you who have come down and shared it with us.
SATURDAYS AT THE KERNEL
We are open every Saturday from 9am to 2pm to sell our beer directly from the brewery.
On the 9th of Dec. 2017, we will have:
In 500ml bottles:
Table Beer,2.8%
Pale Ale,CITRA CHINOOK,5.1%
Pale Ale,SIMCOE,5.1%
Pale Ale,CITRA HUELL MELON,5.3%
Pale Ale,MOSAIC MANDARINA BAVARIA,5.3%
In 330ml bottles:
Table Beer,3.1%
India Pale Ale,CITRA ZEUS GALAXY,7%
Bière de Saison,CHARDONNAY,6.4%
Bière de Saison,SOUR CHERRY,5.5%
Bière de Saison,APRICOT,5.1%
Export Stout,7.2%
Imperial Brown Stout,LONDON 1856,9.3%
Dry Stout,4.3%
In 750ml bottles:
Bière de Saison,RASPBERRY,4.9%
Bière de Saison,EL DORADO,4.6%
Bière de Saison,AGED IN AN OAK FOUDRE FOR 9 MONTHS WITH OUR HOUSE MIXED CULTURES OF YEAST AND BACTERIA,5.2%
Bière de Saison,DUAL RUNNINGS,5%
London Sour,DAMSON,5%
THE KERNEL BREWERY
Visitor / Delivery entrance: Arch 11 Dockley Road Industrial Estate London SE16 3SF
map
Registered office: 01 Spa Business Park Spa Road London SE16 4QT
Phone: 02072314516 Email: contact(at)thekernelbrewery(dot)com
contact
NEWS
09.12.17 - Tap takeover at the Understudy Bar, National Theatre, with music from DJ Blondezilla:
13.08.17 Dual Runnings
12.08.16 - 14.08.16 London Craft Beer Festival
07.08.16 Partizan/BrewByNumbers/Kernel - Sunday lunch @ BrewByNumbers
30.04.16 + 01.05.16 Tilquin English Beer Festival
08.04.16 Charity Beer Night - For Evelina's Children's Charity
10.03.16 The Bottle Shop - Tap Takeover
18.03.16 Single Hop Pale Ale Evening.
(19.09.15) Zwanze 2015
REGISTRATION IS NOW CLOSED
(14.08.14 - 17.08.15) London Craft Beer Festival
(07.08.15 - 16.08.15) London Beer City
(25.06.15) Beat the Brewer, Four Quarters Bar, Peckham
(03.06.15) Brewdog, Bristol - Tap Takeover
(30.05.15) Kaapse Brouwers Festival, Rotterdam
(07.12.14-08.12.14) Vini Birre Ribelli
(09.10.14 - 12.10.14) IndyManBeerCon .
(05.10.14) Concert: Seymour Wright and Evan Parker
(26.09.14-27.09.14) Borefts Beer Festival
(20.09.14) Zwanze 2014
(04.09.14) Leeds International Beer Festival
(09.08.14 - 16.08.14) London Beer City
(14.08.14 - 17.08.14) London Craft Beer Festival
(05.06.14) Liverpool Craft Beer Expo
(31.05.14) Paris International Beer Celebration
(18.05.14) RAW Wine Fair
We are members of the