---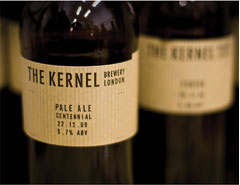 The brewery springs from the need to have more good beer. Beer deserving of a certain attention. Beer that forces you to confront and consider what you are drinking. Upfront hops, lingering bitternesses, warming alcohols, bodies of malt. Lengths and depths of flavour. We make Pale Ales, India Pale Ales and old school London Porters and Stouts towards these ends. Bottled alive, to give them time to grow.
---
Update: 18.12.2020
The brewery is open, though we have reduced the scale of operations and the numbers of us on site at any one time over the Christmas period. The brewery shop is open, and we will continue to send out online orders and orders to our wholesale customers up until Christmas and between Christmas and the New Year. We will be back to our usual operating hours on Monday Jan 4th, 2021.
---
Arch 7 Brewery Shop Christmas Hours
Open for sales and collections:
Dec 21 09:00-17:00
Dec 22 09:00-17:00
Dec 23 09:00-17:00
Dec 24 09:00-16:00
---
Dec 28th 09:00-17:00
Dec 29th 09:00-17:00
Dec 30th 09:00-17:00
Dec 31th 09:00-15:00
---
Jan 2nd 09:00-17:00
Online Shop
London deliveries will be sent out next day. We are delivering up until 24th Dec, and also 29,30,31 December.
We will send out UK-wide deliveries on a next day service, and while most orders will be delivered next day, we can't guarantee when this given how busy the courier services are.
https://store.thekernelbrewery.com/
.
.
.
.
.
.
.
.
.
.
.
.
.
.
.
.
.
.
.
.
.
.
.
.
---
NEWS
17.02.18 BIERE DE SAISON, CITRA 5.9% now available.
19.01.18 BIERE DE SAISON, HONEY OFF COLOR / KERNEL 6.1% now available.
09.12.17 - Tap takeover at the Understudy Bar, National Theatre, with music from DJ Blondezilla:
13.08.17 Dual Runnings