---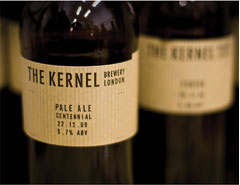 The brewery springs from the need to have more good beer. Beer deserving of a certain attention. Beer that forces you to confront and consider what you are drinking. Upfront hops, lingering bitternesses, warming alcohols, bodies of malt. Lengths and depths of flavour. We make Pale Ales, India Pale Ales and old school London Porters and Stouts towards these ends. Bottled alive, to give them time to grow.
---
UPCOMING EVENTS
27.03.18 La Fromagerie - Beer and Cheese
14.04.18 Dispensary KPH, Denmark: Tap Takeover and Meet the Brewer
20.04.18 The Mermaid, Clapton: Biere de Saison tasting
20.04.18 - 21.04.2018 UFO Beer Festival, Madrid
25.04.18 - Park Fever, Hither Green: Meet the Brewer / tasting
05.05.18 - 06.05.18 - Tilquin English Beer Festival, Rebecq, Belgium
11.05.18 - 12.05.18 - Mikkeller Beer Celebration Copenhagen, Denmark
19.05.2018 - Kaapse 4th Anniversary, Rotterdam, Netherlands
25.05.18 - 27.05.18 - Edinburgh Craft Beer Festival, Edinburgh
09.06.18 - Sesh Fest, Huddersfield
---
SATURDAYS AT THE KERNEL
We are open every Saturday from 9am to 2pm to sell our beer directly from the brewery.
On the 24th of Mar. 2018, we will have:
In 330ml bottles:
Table Beer,3.2%
India Pale Ale,CHINOOK,6.6%
India Pale Ale,CITRA MOSAIC,6.9%
Bière de Saison,DAMSON,4.6%
Bière de Saison,SOUR CHERRY,5.5%
Export Stout,7.3%
Export Stout,6.6%
Imperial Brown Stout,LONDON 1856,9.7%
India Double Porter,7.8%
Dry Stout,4.5%
In 500ml bottles:
Pale Ale,IDAHO 7,5.3%
Pale Ale,MOSAIC,5.3%
Pale Ale,CENTENNIAL CITRA ZEUS,5.2%
Export India Porter,6.1%
In 750ml bottles:
Bière de Saison,DAMSON,4.4%
Bière de Saison,CITRA,5.9%
Bière de Saison,SOUR CHERRY,5.2%
Bière de Saison,HONEY OFF COLOR / KERNEL,6.1%
Bière de Saison,AGED IN AN OAK FOUDRE FOR 9 MONTHS WITH OUR HOUSE MIXED CULTURES OF YEAST AND BACTERIA,5.2%
Bière de Saison,DUAL RUNNINGS,5%
---
THE KERNEL BREWERY
Visitor / Delivery entrance: Arch 11 Dockley Road Industrial Estate London SE16 3SF
map
Registered office: 01 Spa Business Park Spa Road London SE16 4QT
Phone: 02072314516 Email: contact(at)thekernelbrewery(dot)com
contact